The Western Wall (also known as the Wailing Wall) is the holiest Jewish site on earth. An estimated 2 million visitors come to Jerusalem each year, with this famous wall being among the most popular attractions.
The Temple Mount is originally the site of Solomon's, Zerubbabel's, and Herod's temples. The Western Wall is part of the retaining wall built by Herod the Great in 20BC to support the temple.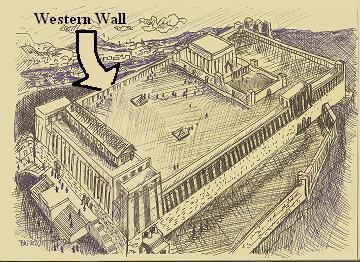 Of all the four walls of the Temple Mount, the Western Wall was the closest to the Holy of Holies, and therefore, the Jews believe that to pray by the Western Wall is particularly beneficial. Many have determined that the area in front of the Western Wall has the status of a synagogue and must be treated with due respect. As such, men and married women are expected to cover their heads and be dressed appropriately upon approaching the Wall. They are also separated by a divider - men get the left half and women get the right half for praying. When leaving, the Jewish custom is to walk backwards, always facing the wall.
There is a practice by many of placing written prayers that have been carefully folded into the cracks and crevices of the wall. More than a million notes are placed here each year!
A practice that has been carried out by Jews since Solomon's time is praying toward the city of Jerusalem, specifically toward the Temple Mount. Daniel did this when he prayed "
...his windows being open in his chamber toward Jerusalem, he kneeled upon his knees three times a day, and prayed, and gave thanks before his God...
" Daniel 6:10 This practice comes from Solomon's dedication prayer of the temple in II Chronicles 6:38, "
and pray toward their land, which thou gavest unto their fathers, and toward the city which thou hast chosen, and toward the house which I have built for thy name
:" It is common for us to see Jews praying just about anywhere, but always facing the direction of Jerusalem and the Temple Mount.
In my distress I called upon the Lord, and cried unto my God: he heard my voice out of his temple, and my cry came before him, even into his ears. Psalm 18:6
And there I will meet with thee, and I will commune with thee from above the mercy seat. Exodus 25:22
However, now that
we
are His temple, we can come boldly to His throne at any place, at any time. What a comforting thought that is for us and can be for you too!