I was in the grocery store today and saw boxes of "Matzo" lined up in a prominent place on the shelves. (picture below) That is when I thought that a good place to start on talking about Israel is the big, upcoming holiday, the Passover. Kids are out of school for two weeks, so it is pretty hard to miss the excitement in the air...
Don't mistake Passover with Easter. Even though they are celebrated relatively around the same time each year, they are two completely different holidays for two completely different cultures.
Passover commemorates the Exodus, the freedom from slavery of the children of Israel from ancient Egypt that followed the ten plagues. It is a 7-day celebration that begins on April 6th of this year.
When Pharoah freed the Israelites, it is said that they left in such a hurry that they could not wait for the bread dough (leaven) to rise.
Matzo
is a symbol of the Passover holiday and is made solely from flour and water. It has been called "bread of poverty," serving as a symbol to remind Jews what it is like to be a poor slave and to promote humility and an appreciation for freedom.
During the week of Passover, observing Jews do not eat any bread that has been leavened with yeast. Not only are they to refrain from eating it, but they are also to rid their homes of it, as well as their domains (work space, cars, etc...)
Observant Jews spend the weeks before Passover in a flurry of thorough housecleaning, to remove every morsel of leaven from every part of the home. Even the cracks of kitchen counters are thoroughly scrubbed to remove any traces of flour and yeast, however small.
A couple of years ago, we visited a Jewish family in their home, in Ukraine. That visit just happened to fall during Passover week, and we couldn't help but notice all of the foil that was covering the kitchen cabinets, appliances, etc. The foil was used to cover any areas that possibly had remaining traces of bread crumbs.
Here are some pictures that I found online that will give you an idea of the cleaning and preparation for Passover: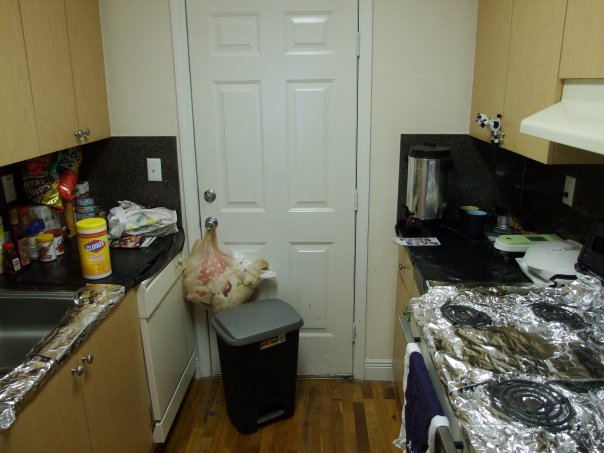 If you really want to learn more about the cleaning process and Passover laws and customs,
you can start by reading here
. I think you will be surprised at how much work is involved!
In the future when you read the below verses in your Bibles (though there are many more than the ones I have listed), you will have a better picture in your minds of what the Passover means to the Jewish people and why unleavened bread is still a part of their culture. This is all a part of my attempt at helping make the Bible come alive to you (and me)!.....
Exodus 12:39 And they baked unleavened cakes of the dough which they brought forth out of Egypt, for it was not leavened; because they were thrust out of Egypt, and could not tarry, neither had they prepared for themselves any victual.
Exodus 13:7
Unleavened bread shall be eaten seven days; and there shall no leavened bread be seen with thee, neither shall there be leaven seen with thee in all thy quarters.